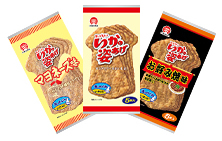 Check out our crunchy and delicious squid-shaped fried snacks. Our four distinctive flavors offer you exciting variety. Aside from plain, there are hot chili, mayonnaise, and okonomiyaki flavored snacks.
These snacks are great for all kinds of occasions. We also offer large-sized value packs!

Whenever you eat one, you always get the same crunchy and delicious texture. Enjoy comparing the four different flavors, all of which perfectly complement the snack's texture. The taste will have you coming back for more.
Product Lineup