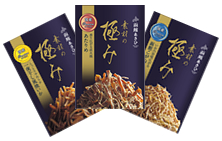 Dainty snacks created using carefully selected traditional Japanese ingredients. Our method and the seasonings we use brings out the authentic taste and aroma of squid.

These flagship products are fine examples of the dried delicacies produced at our plant in Hakodate. Our area is widely renown for its squid fishery industry.

We take an uncompromising approach to choosing our ingredients, preparation methods, and seasonings. For example, we process freshly-caught Japanese flying squid without freezing in order to bring out the full flavor and then add seasonings with a slight twist, such as traditional Japanese-style seasonings and chili pepper.
Product Lineup