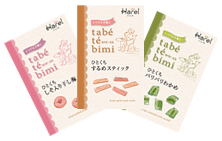 Made from all natural ingredients, these delicious snacks are kind to your body.

We have devised a refined packaging that allows women with cosmopolitan sensibilities to eat these snacks easily while on the go. The bite-size morsels make it easier for women to eat them anywhere, even on the train or in the office.

A range of products that is kind to the body, including pickled squid, seaweed, sardines, cheese, and dried plum with shiso.

Natural ingredients healthily prepared.
The morsels are bite-size, so you can easily eat them.
Product Lineup